Welcome to the website of the Downtown Cluster of Congregations. The Downtown Cluster is a non-profit, ecumenical association founded in 1972 for the purpose of cooperatively meeting pressing human service needs in the District of Columbia.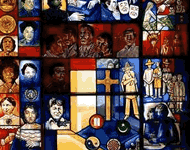 The Downtown Cluster
of Congregation's efforts have increased ecumenical cooperation in the city and built bridges between community groups.
It will continue to provide a religious witness in the nation's capital on issues of human needs as well as city-wide revitalization.